Economical and practical for perfectly made pastries
Discover our tearable round dessert mould, the essential tool for pastry professionals and ice cream parlors. Made in France in our factory in Savoie, this high-quality plastic mold offers a practical and easy-to-use solution for making exceptional pastry creations. With its height of 5cm and its diameter of 20cm, our tearable round dessert mold is specially designed for professional pastry chefs in search of perfection. Its particularity lies in its ability to tear easily, thanks to its pre-cut ears: once taken to the cold, the cake simply unmolds in a pull on it, and allows to obtain a perfectly smooth result. No more worries about laborious unmoulding or impact on pastries, you will obtain impeccable results with each use. By opting for our tearable round dessert mould, you will not only save money, space but also time: no washing/drying, storage and storage in a suitable place; it also saves time for your teams, who can devote themselves fully to creation, without worrying about equipment. Turn your pastries into real masterpieces using our round tear-off dessert mould: join the community of talented pastry chefs who are already convinced!
A multitude of possibilities
Discover our entire collection of round dessert moulds: with heights from 3.5cm to 6cm and diameters from 12cm to 26cm, you can create made-to-measure desserts for 3 to 16 people. Choose the package that meets your needs, or contact us for special requests. At PETIT, personalization is at the heart of the offer: do you want a particular design, your logo in relief or a text that stands out as soon as the cake is unmolded? Contact us!
Product name

Dessert mold - Round H50 Ø220
Code SKU

94001292
Number of pieces

50 pièces
Nombre de parts
Sur la base de 1 part = 150ml environ
13 parts
Inside dimensions

220x220x50
Outside dimensions

300x240x50
Materials

Blue PVC
Weight

24.5 g
Volume

1900ml
Packaging

500x400x300mm / 1kg
Food sheetDownload
User guideDownload
Conseils de réutilisation des moulesDownload
Tolerance on dimensions

+/- 1mm
Tolerance on net weight

+/- 7%
Plastic quality

Food
Material origin

Europe
Storage conditions
Maintenir dans un lieu protégé de la chaleur, de l'humidité et du rayonnement direct du soleil
Stocker loin de matériaux inflammables
Nous préconisons d'utiliser les pièces durant l'année de leur livraison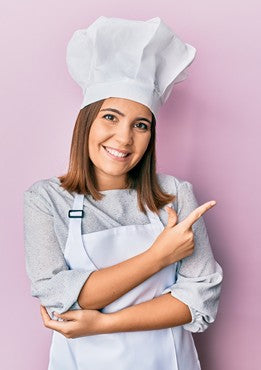 Les moules plastiques Petit sont des moules prêts à l'emploi, à usage unique et donc jetables après utilisation. Toutefois, il est possible de réutiliser certains modèles après un lavage, un séchage et un stockage précautionneux. Attention : . PETIT ne peut être tenu pour responsable en cas de problème suite à la réutilisation de ses moules. . Les moules ne peuvent pas être lavés à la machine.
Tous nos moules à entremets ronds sont pourvus d'oreilles avec une prédécoupe. Ces moules présentent une dépouille (pente verticale) très faible pour vous permettre de réaliser un entremet parfaitement droit, avec des angles vif et un fond très plat et lisse qui permet un glaçage parfait. Les oreilles sont présentes pour vous permettre de déchirer le moule pour obtenir ce résultat, ce que ne permet pas un simple démoulage. Seuls nos moules à entremets, à bords droits, sont facilement déchirables.
Afin d'optimiser la conservation des moules en plastique, suivez ces quelques astuces simples afin d'optimiser la durée de vie de vos produits : - Gardez les moules dans un lieu protégé de la chaleur, de l'humidité et du rayonnement direct du soleil, le mieux étant de les stocker dans la housse et le carton dans lesquels ils vous ont été livrés. - Stockez les moules loin des matériaux inflammables ou des sources de chaleur (ils sont en plastiques et peuvent donc se déformer ou fondre sous l'effet de la chaleur).
Nos moules en plastique thermoformé sont entièrement compatibles avec vos chambres froides, en froid positif ou en froid négatif.
Une partie des moules à entremets présentent une dépouille (partie verticale du gâteau) très droite pour donner de beaux entremets. Aussi après la prise au froid, il peut être difficile de les démouler, simplement en les retournant. Sur certains moules, des "oreilles" prédécoupées sont présentes : elles permettent de déchirer le moule pour obtenir une finition d'entremets impeccable. Les bords de l'entremets sont ainsi bien nets, le fond (= le dessus une fois démoulé) est parfaitement plat et lisse, ce qui permet un glaçage parfait ; au contraire des gâteaux élaborés avec des cercles à pâtisserie classiques, qui nécessitent de peaufiner le dessus à la spatule, ce qui fait une finition moins régulière.