Macaron tray: optimize space and preserve perfection
Discover our macaron wedge tray, the ideal tool for storing and protecting your macaroons while optimizing space. Designed especially for pastry professionals, this tray allows you to arrange your macaroons vertically, on the edge, which allows you to store more macaroons on a smaller tray. Thanks to this ingenious system, you can present your macaroons in a compact and less cumbersome way.
The advantages of our macaron tray
Space optimization : by arranging the macaroons vertically, you can store more macaroons on a small tray, saving space in your display case or refrigerator
Protection of macarons : our wedging tray provides optimal protection for your macarons by preventing them from colliding or deforming during transport or storage
Preservation of freshness : thanks to our wedging tray, your macaroons stay well aligned and are not at risk of being crushed, thus preserving their visual appearance and their delicate texture
Ease of handling : our tray is light and easy to handle, which makes it easy to transport and handle the macarons during their preparation or presentation. With our macaron wedge tray, you can present your creations in an aesthetic and compact way, while preserving the perfection of each macaroon.
Don't sacrifice quality for space, choose our macaron display tray for optimal presentation and convenient storage.
Product name

Wedging - 12 macaroons
Code SKU

94000299
Number of pieces

325 pièces
Inside dimensions

36x36 (x12 cells)
Outside dimensions

195x95x27
Materials

black PET
Weight

7 g
Packaging

600x400x200mm / 3kg
Food sheetDownload
User guideDownload
Conseils de réutilisation des moulesDownload
Tolerance on dimensions

+/- 1mm
Tolerance on net weight

+/- 7%
Plastic quality

Food
Material origin

Europe
Storage conditions
Maintenir dans un lieu protégé de la chaleur, de l'humidité et du rayonnement direct du soleil
Stocker loin de matériaux inflammables
Nous préconisons d'utiliser les pièces durant l'année de leur livraison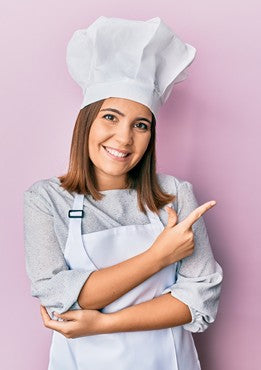 PETIT utilise 3 matières premières distinctes pour confectionner ses moules : - l'APET, plus couramment appelé PET, est à base de polyéthylène téréphtalate amorphe. Ils sont utilisés pour fabriquer des emballages via un processus de moulage thermique. Transparence, recyclabilité, prix pas cher, excellentes propriétés mécaniques, alimentarité, c'est LE plastique le plus répandu pour la fabrication de contenants alimentaires, notamment pour les bouteilles d'eau. Les moules en APET fabriqués par PETIT sont élaborés à partir d'épaisseurs allant de 200 microns (=0,2 mm) à 900 microns maximum. - Le PS (polystyrène) est un thermoplastique transparent avec une structure amorphe. Il est particulièrement utilisé pour la vaisselle jetable, les éléments décoratifs, le boîtage économique, etc. Il présente une meilleure rigidité, et est aussi économique. PETIT utilise des films PS dont les épaisseurs vont de 1,2 à 2mm selon les formes de moules et la rigidité nécessaires à la bonne tenue du gâteau au moment du montage et du stockage au froid. - Le PVC ou polychlorure de vinyle : il est intéressant également pour son prix et par le fait qu'il peut se déchirer. Les moules à entremets rond PETIT sont déchirables pour permettre un démoulage parfait du gâteau. PETIT utilise des films de 0,2 à 0,9mm pour fabriquer ses moules en PVC.
Nous sourçons nos matières premières en France et au besoin dans d'autres pays de l'Union européenne. Nos moules sont fabriqués notamment à partir de plastique recyclé. Bien entendu, il s'agit de plastiques de qualité alimentaire totalement conformes aux normes en vigueur.
Bien entendu. Si vous hésitez entre plusieurs modèles, envoyez-nous une demande d'échantillons à l'adresse : commandes@societe-petit.fr. Nous nous ferons un plaisir de vous orienter vers les produits qui vous conviennent le mieux et nous vous proposerons quelques échantillons. Vous devrez justifier de votre statut de professionnel et nous envoyer votre numéro de SIRET.
Notre bureau d'étude interne est à votre disposition pour envisager la création d'un moule à pâtisserie sur-mesure ou tout autre produit fabriqué via le procédé de thermoformage (calage, boite, blister etc.). Vous pouvez nous contacter par téléphone au 04.79.36.60.01, du lundi au vendredi, de 8h à 12h et de 14h à 18h.
Oui, nous offrons des services de personnalisation pour certains de nos moules en plastique. Vous pouvez ajouter votre logo, votre nom d'entreprise ou tout autre design spécifique à votre marque. Cela ajoute une touche d'authenticité et de professionnalisme à vos créations.