Plastic bowl: an elegant and transparent design
To present your vegetable or pasta salads, your poke bowls, or any other cold preparation, the plastic bowl is the ideal format. The total transparency of the bowl and its lid make it possible to present your products well to attract the attention of your customers in the window. Its capacity makes it possible to offer a takeaway dish for one person, a perfect format for a lunch break or a picnic. Whether for fast food, takeaway or your catering department, the plastic bowl allows you to highlight your preparation and facilitates transport thanks to its lid.
Why choose the PETIT plastic bowl?
The PETIT plastic bowl is made in France, from materials sourced exclusively in Europe
The bowl is recyclable: it is recycled by the selective sorting channels
The transparent bowl allows the customer to view the entire contents of his salad, and to ensure the freshness of the food
The square format design allows an elegant and perfectly aligned presentation in the window
Product name

Salad bowl - Square + lid
Code SKU

94001205
Number of pieces

50 sets (100 pieces)
Outside dimensions

160x160x70
Materials

Crystal PET
Weight

55 g
Volume

1172ml
Packaging

600x400x200mm / 6kg
Food sheetDownload
User guideDownload
Conseils de réutilisation des moulesDownload
Tolerance on dimensions

+/- 1mm
Tolerance on net weight

+/- 7%
Plastic quality

Food
Material origin

Europe
Storage conditions
Maintenir dans un lieu protégé de la chaleur, de l'humidité et du rayonnement direct du soleil
Stocker loin de matériaux inflammables
Nous préconisons d'utiliser les pièces durant l'année de leur livraison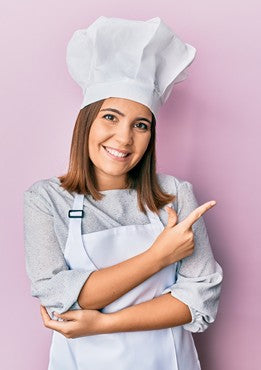 PETIT utilise 3 matières premières distinctes pour confectionner ses moules : - l'APET, plus couramment appelé PET, est à base de polyéthylène téréphtalate amorphe. Ils sont utilisés pour fabriquer des emballages via un processus de moulage thermique. Transparence, recyclabilité, prix pas cher, excellentes propriétés mécaniques, alimentarité, c'est LE plastique le plus répandu pour la fabrication de contenants alimentaires, notamment pour les bouteilles d'eau. Les moules en APET fabriqués par PETIT sont élaborés à partir d'épaisseurs allant de 200 microns (=0,2 mm) à 900 microns maximum. - Le PS (polystyrène) est un thermoplastique transparent avec une structure amorphe. Il est particulièrement utilisé pour la vaisselle jetable, les éléments décoratifs, le boîtage économique, etc. Il présente une meilleure rigidité, et est aussi économique. PETIT utilise des films PS dont les épaisseurs vont de 1,2 à 2mm selon les formes de moules et la rigidité nécessaires à la bonne tenue du gâteau au moment du montage et du stockage au froid. - Le PVC ou polychlorure de vinyle : il est intéressant également pour son prix et par le fait qu'il peut se déchirer. Les moules à entremets rond PETIT sont déchirables pour permettre un démoulage parfait du gâteau. PETIT utilise des films de 0,2 à 0,9mm pour fabriquer ses moules en PVC.
Nous sourçons nos matières premières en France et au besoin dans d'autres pays de l'Union européenne. Nos moules sont fabriqués notamment à partir de plastique recyclé. Bien entendu, il s'agit de plastiques de qualité alimentaire totalement conformes aux normes en vigueur.
Bien entendu. Si vous hésitez entre plusieurs modèles, envoyez-nous une demande d'échantillons à l'adresse : commandes@societe-petit.fr. Nous nous ferons un plaisir de vous orienter vers les produits qui vous conviennent le mieux et nous vous proposerons quelques échantillons. Vous devrez justifier de votre statut de professionnel et nous envoyer votre numéro de SIRET.
Notre bureau d'étude interne est à votre disposition pour envisager la création d'un moule à pâtisserie sur-mesure ou tout autre produit fabriqué via le procédé de thermoformage (calage, boite, blister etc.). Vous pouvez nous contacter par téléphone au 04.79.36.60.01, du lundi au vendredi, de 8h à 12h et de 14h à 18h.
Oui, nous offrons des services de personnalisation pour certains de nos moules en plastique. Vous pouvez ajouter votre logo, votre nom d'entreprise ou tout autre design spécifique à votre marque. Cela ajoute une touche d'authenticité et de professionnalisme à vos créations.